Yes, it's true. I won FOUR THOUSAND ONE HUNDRED DOLLARS.
Sorry, let me back track. My company, KLMN Media, is part of Launchpad which is an incubator at Wilfrid Laurier University. Launchpad helps support you with mentorship, grant opportunities, and resources that you may need to get your company off the ground.
I won $4,100 through Laurier Launchpad's Lift Off Pitch Competition. I had to go through about 8 sessions through the course of about 6 months and finish the required 'homework' that would allow me to pitch. It was a wild ride and there was a lot that went into it.
To be honest, at the beginning of this whole thing, I knew that I wouldn't have a chance at placing in the top 5. I'm a creative business and I felt that all of these amazing tech companies that surround me everyday would be able to beat me by a mile. Boy, was I seriously mistaken.
I started writing my pitch about 4 days before the actual pitch day. I knew I had to have a compelling story that would be able to connect with my audience and show exactly why I deserve to be on that stage with everyone else. I should add that I only had 4 minutes on stage to accomplish this!
For the beginning of my pitch, I had an idea of bringing my camera on stage and making the audience say, "Cheese!" for me.
When I asked everyone to say, "Cheese!" the audience's whole energy shifted as they smiled for the camera. Although this photo is not the greatest, it holds a memory. My dad is sitting in the top left corner, the Honourable Bardish Chagger is sitting in the middle, right above the screen, and my amazing Launchpad ladies, Rachel and Kaitlin are sitting front row to the left. This was the moment I knew I could relax and explain my story and what I do as the CEO of KLMN Media.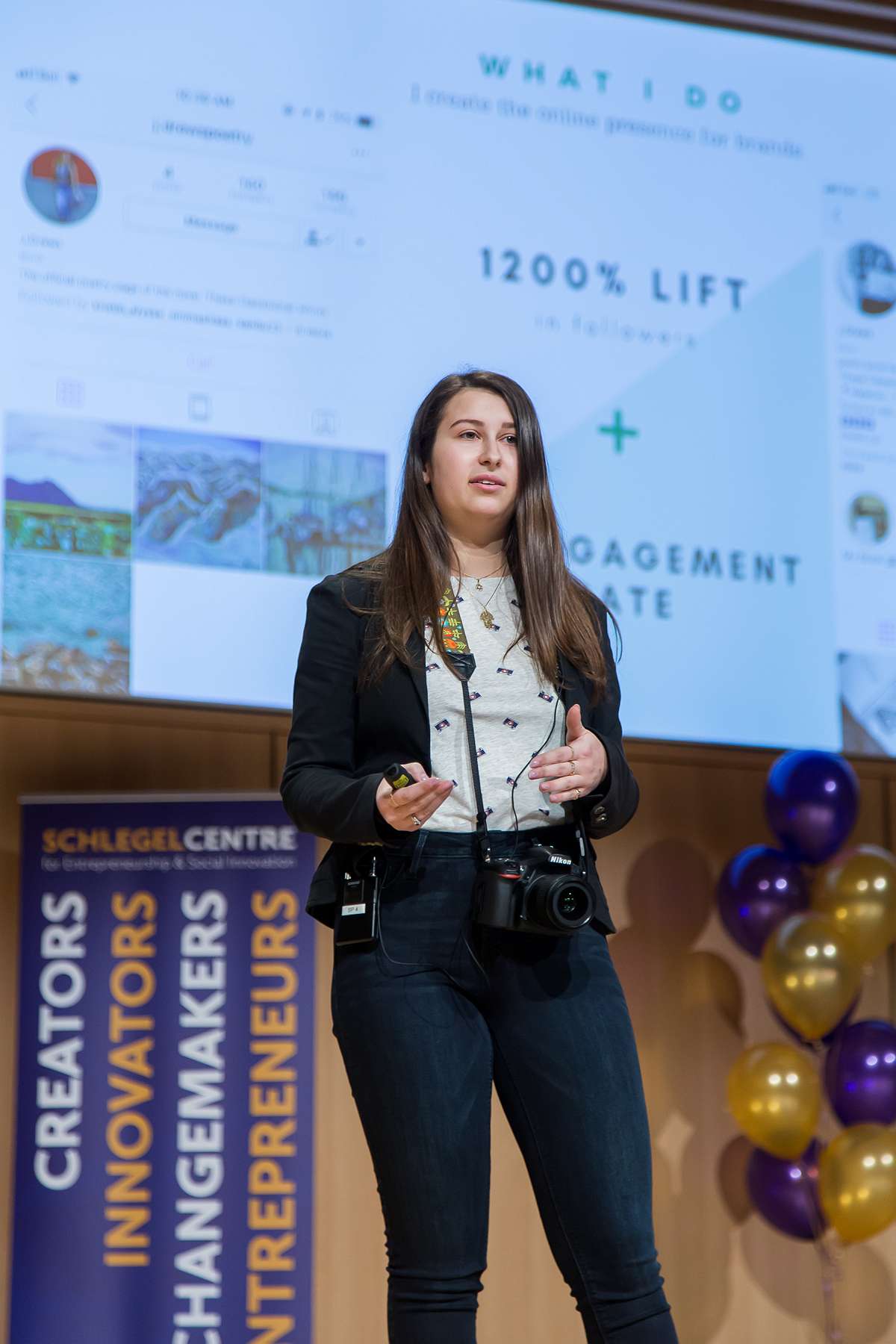 Yes to this awkward mid-pitch photo of myself!
Honestly, I love this photo. I remember what I felt being on that stage. It was electrifying and so memorable. Being able to share my story and the value that I give to my clients and everyone I work with was so amazing.
There I am, right in the middle of the amazing companies that pitched that day, along with the judges and Launchpad coordinators. I feel more than lucky and grateful to have had this opportunity. I am proud of myself and the boss woman that I have become.